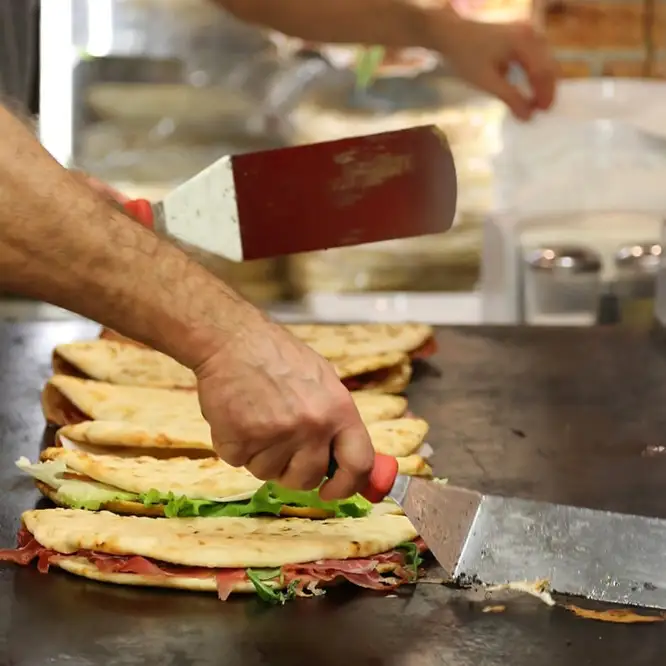 Mozarella, Prosciutto and Rocket Piadina Recipe
Heated, filled, and then folded – Piada flatbreads are a local delicacy from the heart of Emilia Romagna. In this northern Italian region you will find Piadina being prepared and served hot by street vendors as on-the-go sandwiches and snacks.
Cook time:

10 mins

Prep time:

10 mins

Serves:

1
The street food of Emilia Romagna
Flatbreads rather than wraps, piadina are authentically Italian street food staples from the Emilia-Romagna region, made to be folded, not rolled.
Our bakers in Italy use olive oil instead of traditional strutto (pork fat) and only 100% durum wheat, which gives these flatbreads their distinctive golden colour, and their sweeter, subtly nutty flavour too.
This recipe is extremely simple and shows how with only five ingredients (piadina included) you too can enjoy a delicious lunch just as the locals do in Emilia Romagna.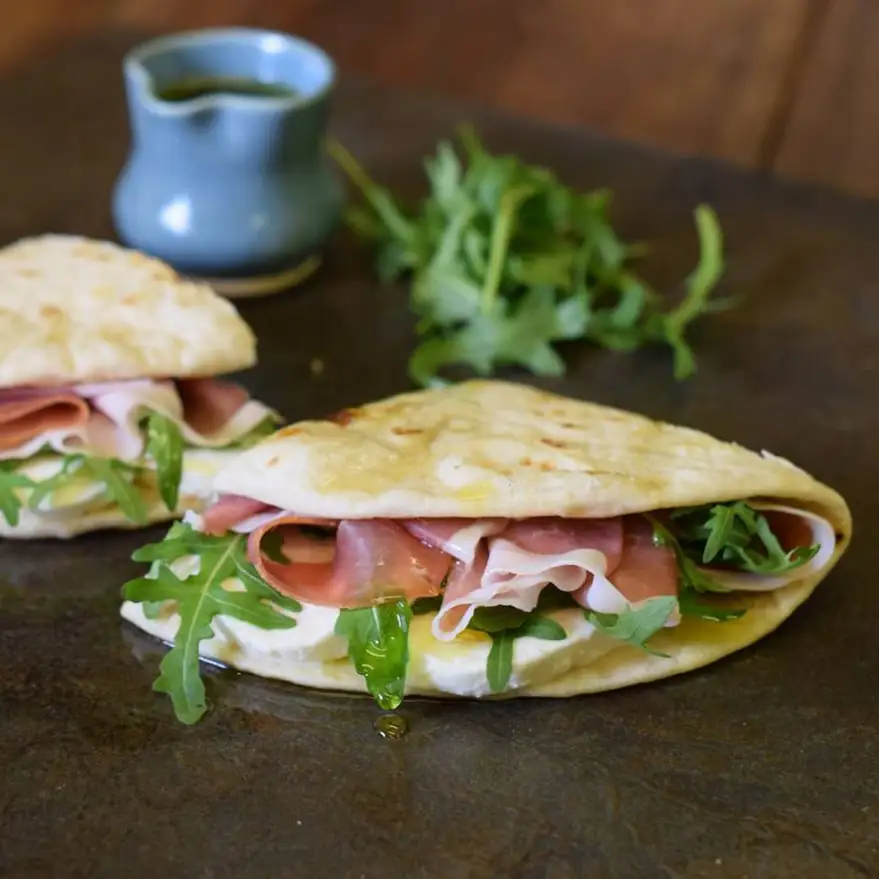 Method
Step 1

Place a Crosta & Mollica Piadina in a hot dry frying pan for 1 minute on each side or put in a preheated oven at 180°C or gas mark 4 for 3 minutes.

Step 2

Whilst the Piadina is warming, drain and slice a half a ball of mozzarella and tear up the slices of Prosciutto..

Step 3

Remove the Piadina from the pan or oven and place on a plate or chopping board. Leave the Piadina flatbread completely flat in order to add the fillings.

Step 4

Top one half of the Piadina with slices of mozzarella, the Prosciutto and rocket leaves. Then drizzle olive oil over the ingredients for extra flavour.

Step 5

Fold the un-topped half of the Piadina over the fillings and press down to fold the sandwich completely.

Step 6

Serve warm, folded or cut in half to enjoy.