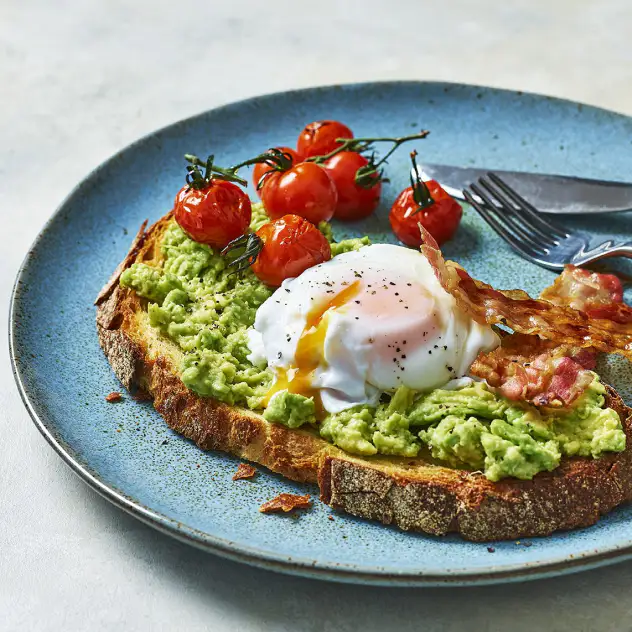 Pane Pugliese Brunch
Crosta & Mollica Pane Pugliese is made with only 4 natural ingredients: Durum Wheat Flour, Water, Yeast & Salt. Its thick crust & slightly chewy texture make it the ideal toasting bread or base for bruschetta.
Cook time:

15 mins

Prep time:

5 mins

Serves:

1
Bring on brunch
An indulgent, yet easy to execute brunch is one of the best ways to start a weekend. Double up on this recipe to share with friends and family, or simply enjoy alone with the morning papers.
The creamy texture of the avocado works perfectly with the crunch of the toasted bread, and the crisp smoky flavour of Pancetta.
Method
Step 1

Place a small bunch of cherry tomatoes (stalk side down, to prevent burning) under the grill on a low heat. The tomatoes should soften and show light charring marks. Keep an eye on these and remove when necessary whilst you prepare the other elements.

Step 2

Carefully halve and stone the avocado and scoop the flesh into a bowl. Roughly mash this with a squeeze of lemon juice and salt and pepper to taste. Cook the Pancetta either under the grill or in a pan but keep the heat relatively high so the fat crisps up.

Step 3

Toast your preferred amount of Pane Pugliese on both sides and spread with the avocado mixture.

Step 4

Poach the egg to your liking (we like runny yolks and used a shallow pan to make ours).

Step 5

Top your avocado Pane with the poached egg, crispy pancetta and tomatoes and enjoy!